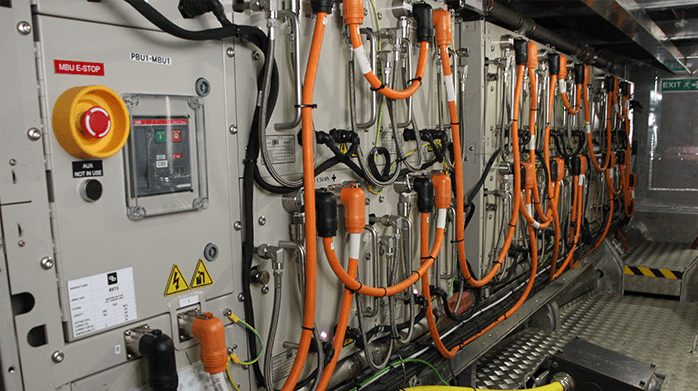 According to Maritime Battery Forum the growth of maritime batteries is exceptional – Growth is at 30%
Translated version – Original article by Tore Stensvold –Published: 24. Jan. 2018
Suppliers of Energy Storage Systems within the Maritime Industry, grows along with the electric development of ferries and hybrid engineering for Offshore Industry. It all started with the electric ferry Ampere, by Norled in 2015. More vessels are to come with battery solutions on-board.
Today 203 vessels in the civilian and commercial market are installed with energy storage systems that either partly or fully replace the need of fossil fuels. Two suppliers are dominating todays market: all together Corvus and PBES supply more than 50%. It´s a long way down to number three, four and five. That is French SAFT, Dutch EST-Floattech and Norwegian ZEM. And new suppliers are breathing down their neck.
Electric Ferry, Ampere, started its journey in 2015 on the route of Sognefjorden along E39, Lavik-Oppedal. (Picture: Tore Stensvold)
Canada and Bergen:
Corvus Energy last year sold energy systems all together 50MWh capacity to 50 vessels. The year before that, 2016, their total sales were 5,5MWh. The HQ, production line and development is based in Vancouver. Most of sales, service and marketing is in Bergen. Sales Manager Halvor Hauso for Corvus says that 2018 will be a bigger sales year than their record year of 2017. Budget figures and targets for 2018 are not yet ready, as Corvus has a deviating financial year.
So far it looks like number of MWh sold will grow in the year 2018, says Hauso to TU.
Canada and Trondheim:
The second biggest supplier, Plan B Energy Storage(PBES), delivered a total of 15,3 MWh for a total of 20 energy storage systems in 2017. PBES built their production line in Trondheim and most of the engineering and sales is in Norway.
VP Brand and Marketing, Grant Brown for PBES says to TU that they see a big growth for the sales figures of 2018.
"We already have 11 orders totalling 9 MWh and anticipate far more sales through the electrical system integrators, "said Brown.
Germany and Trondheim:
One of the new suppliers of maritime batteries is Siemens. Siemens has developed their own batteries and is starting production in Trondheim soon. Other system integrators consider the same. Swedish Echandia Marine, that delivered the electrical systems for coastal express BB Green, has published that they are engineering both lithium-titan-oxide and nickel-metal-hybrid batteries.
Adaptation and Focus:
Norwegian ZEM Energy is not that happy with Siemens building their own production line for maritime batteries. ZEM distributed batteries for Siemens project´s. In the future, it might be fewer of their distribution to Siemens.
The competition has expanded, Siemens addition to supply has not minimalized it, says Egil Mollestad for ZEM.
Last year the company delivered Energy Storage Solutions together for roughly 3 MWh. A tougher competition ZEM will have with new types of batteries.
Throughout 2017 we developed a battery solutions for smaller vessels, small passenger ferries, workboats and similar. So far in 2018 we have two orders for these types of systems. We see it as an important and exciting market where we don't have competition from the bigger suppliers Siemens, Corvus and PBES, said Mollestad.
ZEM cooperates with Norsafe with development of battery driven lifeboats.
The most important for offshore lifeboats is to quickly get away from the platform. Batteries is a excellent solution. (Picture: Norsafe)
Crew Doubled:
Grenland Energy is the smallest Norwegian battery supplier. They do the same as ZEM, develops and points systems to new market segments. In 2017 Grenland Energy supplied battery systems for two mobile, active HIV subversion subcomponents, but no ships. That is going to turn.
We have expanded and doubled the crew from five to ten employees. WE have been working allot with development and testing of a new generation batteries with a higher energy density, said Roman Stoiber, Grenland Energy.
Fire Safety:
The new batteries have been tested by the Norwegian Maritime Directorate´s propagation test1. The tests are very strict and shall prevent so-called Thermal Runaway, overheating and fire that can spread between the cells in lithium batteries.
Battery Management Systems that passes the test, have integrated safety systems which makes it unnecessary with extra fire and explosion safety inside the vessel.
We are fully committed to the maritime market with the new generation and have the first order ready for delivery to Norleds Hybrid coastal express which is to be ready in 2019, said Stoiber to TU.
The company is also working with two new Pilot E-Projects, NCE Maritime Clean Techs "Urban Water Shuttle" and autonomous ferries with Kongsberg Maritime. Hybrid Sacandlines-Ferry. The battery pack from Corvus is 2,7 MWh, here from Princess Benedikte after installation is complete. (Picture: Scandlines)
New Markets:
Daily Manager Sondre Henningsgård at Maritime Battery Forum sees that batteries are coming along well inside of new segments.
Ferries, passenger vessels and hybrids in the offshore business is still the biggest market. At the same time, it is clear that smaller vessels such as tugboats, luxury yachts and workboats are installing battery systems.
PBES announced last week a contract for battery system to an Estonian police patrol boat and border control vessel.
It´s a hybrid vessel, 44,6-meter-long and total weighs 220 metric ton. The propulsion system is 2 x 2000 kW and main engines is MTU 16V4000. Installation of the battery system will be in March this year and the size of it is 273 kWh. The German company Noris is the system integrators and ordered the batteries from PBES.
Noris and PBES has signed a cooperation agreement, which resulted in yet another contract. PBES are delivering a battery package for 137 kWh to a smaller Swedish ferry. Both the ferry and patrol boat is being built at the Baltic Workboat Shipyard in Estonia. Both vessels will be delivered within 2018.
Norwegianisation:
Corvus was established in Vancouver, Canada in 2009. One of the founders, Brent Perry, joined forces to couple others after a few years out of the company and started Plan B Energy Storage.
Last check and documentation (Picture: Tore Stensvold)
Perry thought of Norway as a leaders for electric vessels and ferries. Through a delivery of Corvus batteries to the world´s first electric fishing boat, Perry met with CEO in Selfa, Erik Ianssen. The relations to Norway and Trondheim led to the establishment of the factory in Trondheim.
Meanwhile Corvus is becoming more Norwegian. Statoil Technology Invest, BW Group and Hydro owns roughly 70% of stocks. Last one to buy in was Hydro, bought 25,9% stocks in November 2017. From 1. Jan. 2018 administrative director will be a Norwegian. Geir Bjørkeli came from the Dutch Huismans Norwegian offce and is now based in Bergen.
PBES keeps their Canadian ownership, but are moving more of their activity to Norway.