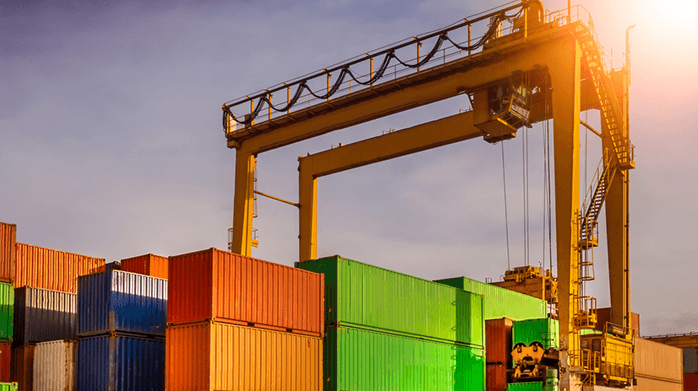 PBES is proud to announce the successful installation and commissioning of the first rubber tyre gantry crane with China Communications Construction Company (CCCC). CCCC is the world's largest manufacturer of port container cranes, exporting to freight terminals around the globe. CCCC Shanghai Equipment Engineering Co., Ltd (CCCCSH) is a subsidiary of CCCC and is located in Shanghai.
"PBES is exceptionally pleased to work with CCCCSH on this innovative project," said Brent Perry, CEO, PBES. "This first project validates the quality, performance and safety PBES has become known for. We look forward to a long, prosperous relationship with CCCCSH going forward.
Low-emissions container cranes are part of the global push to reduce emissions from port operations. RTG container cranes are particularly well suited to hybridization; 24-hour use and rapid cycling combined with huge capacity to create regenerative power means that only the most robust batteries are up to the task. Hybrid cranes reduce fuel consumption by hundreds of thousands of liters of fuel per year compared to traditional diesel only versions. They are very effective in emissions reductions and at the same time provide significant operational cost savings.
"PBES batteries have proven capable of handling high charge and discharge rates, and also of providing the longevity that is required in a busy port application," commented Gao JianZhong, Chief Engineer CCCCSH. "The unparalleled cycle life and exceptional commitment to service from PBES sets them apart from other battery companies."
In 2017 PBES installed more than 15MWh of energy storage to marine and industrial markets around the world. The PBES energy storage system has been engineered to the highest standards of performance and safety and is designed to seamlessly integrate with the electrical infrastructure on the machine.
About PBES
PBES designs and manufactures high power lithium-ion energy storage. Comprised of the most experienced team in the sector, PBES is focused on providing value and safety for industrial, marine and grid energy storage applications. www.ssssspbes.com.
About CCCC
China Communications Construction Co. Ltd. engages in the design and construction of transportation infrastructure, dredging and heavy machinery manufacturing business. The company was founded on October 8, 2006 and is headquartered in Beijing, China. www.ccccltd.cn
About CCCCSH
CCCC Shanghai Equipment Engineering Co., Ltd (CCCCSH) was founded in 1998 as one of subsidiaries of China Communications Construction Company Ltd. (CCCC). Relying on the background advantage of CCCC, CCCCSH is mainly engaged in EPC of ships and port machinery, including engineering, manufacture, installation, commissioning and repairing. In addition, CCCCSH also deals with battery system application on port machinery. www.ccccsh.com