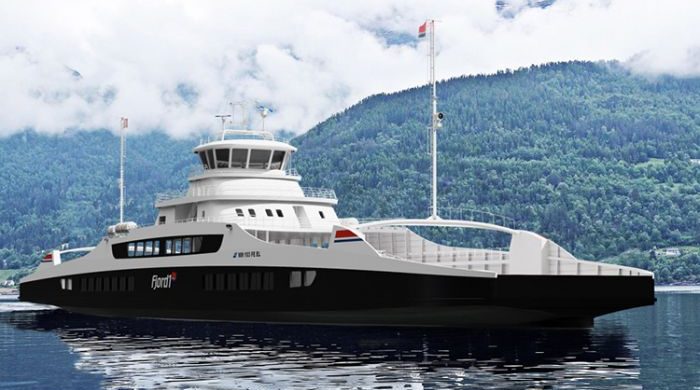 Excerpt translated from original Norwegian article, written by Tore Stenvold. Published in TU on June 4, 2018. Link to original article here.
Captain Kjetil Setter and Chief Commander Sindre Willumsen sits on the bridge on board in MF Eidsfjord. Sounds and vibrations you normally hear on a ferry are completely absent.
Together with MF Gloppefjord, the ferry constitutes the world's first 100 percent battery-electrically powered ferry connection. "These are fantastic functional ferries," says Captain Sætre.
Machine chief Ronny Kandal does not have much oil in either hair or hands. "There is actually more to do on board here than on a diesel ferry, but there are a few other tasks. And then it's quieter and cleaner, "he said pleased. He does not long for noise and diesel, though diesel is also on Eidsfjord and Gloppefjord. Both have Scania engines that run on biodiesel as backup
On the bridge to MF Gloppefjord, Captain Ole Kristian Hauge and Øystein Vereide, as usual captain, are also present, but today the deputy chieftain. They are delighted with the battery power. Fjord 1 was awarded the contract for operation of the two ferry connections from 1 January 2018.
According to the contract with the Norwegian Public Roads Administration, Fjord 1 chose to build one electric and a low-emission ferry, but went in to build both ferries with high battery capacity for several hours of operation without charging.
Bio-backup
Fjord 1 ordered two steel ferries from Tersan in Turkey in April 2016. They are designed by Multi Maritime and can accommodate 120 passenger cars, 12 lorries and 349 people.
Each of them is equipped with two battery packs of 540 kWh from Canadian-Norwegian PBES. In addition, the ferges have backup generators from Nogva with Scania engines, built for biodiesel.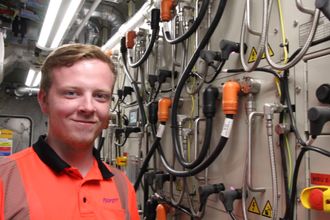 Hard load
6-7-minute charge with up to 1500 kW charge power on Anda. Transfers take 11 minutes.
The charge power is switched off as battery capacity is reached. The Siemens power management system and PBES battery management ensure that batteries do not charge too fast and damage the batteries.
MF Gloppefjord / MF Eidsfjord
Design: Multi Maritime MM102 FE EL
Shipyard: Tersan, Turkey
Surrender: December 2017.
In traffic on Anda-Lote: February / March 2018
Capacity: 120 passenger car equivalents (PBE) / 349 persons
Speed: 8 knots (max 15 knots) '
Transition time: 11 minutes
Length: 106, 04 meters
Width: 17.2 meters
Draft: 3.8 meters
Batteries: PBES 2 x 540 kWh
Generator set: Nogva 2 x Scania DI16 / Stamford 510 ekW 1500 RPM