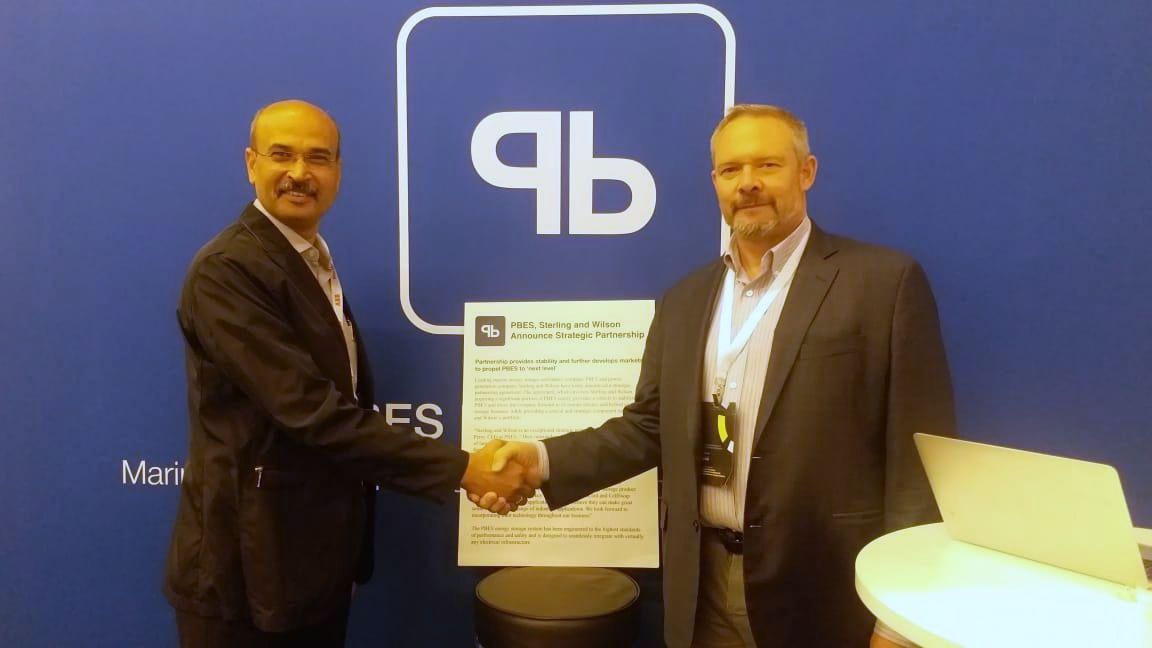 Partnership provides stability and further develops markets to propel PBES to 'next level'
Vancouver, Canada – June 5, 2019 – Leading marine energy storage and battery company PBES and power generation company Sterling and Wilson have today announced a strategic partnership agreement. The agreement, which involves Sterling and Wilson acquiring a significant portion of PBES equity, provides a vehicle to stabilize PBES and move the company forward in its marine electric and hybrid energy storage business, while providing a critical and strategic component in Sterling and Wilson's portfolio.
"Sterling and Wilson is an exceptional strategic partner for PBES," said Brent Perry, CEO at PBES. "Their outstanding organization and understanding of large power systems make them an ideal partner strategically, as well as financially, in supporting us in taking PBES to the next level. We are delighted to announce this agreement and look forward to introducing their team and full range of products and services to our key customers and stakeholders in coming weeks, and long term success over the coming years".
Sanjay Jadhav, CEO at Sterling and Wilson Powergen added:, "PBES technology is undoubtedly the best quality and safest energy storage product in the industrial sector. Their key features such as CellCool and CellSwap were designed for marine applications, but we believe they can make great sense across a broad range of industrial applications. We look forward to incorporating their technology throughout our business".
The PBES energy storage system has been engineered to the highest standards of performance and safety and is designed to seamlessly integrate with virtually any electrical infrastructure.
About PBES
PBES is a leading designer and manufacturer of high power lithium-ion energy storage units and batteries. Comprised of the most experienced team in the sector, PBES is focused on providing value and safety for industrial, marine and grid energy storage applications. www.ssssspbes.com.
About Sterling and Wilson
Sterling and Wilson is an excellent example of how the Shapoorji Pallonji family has nurtured long term associations with its business partners. The Mistry and Daruvala families have been partners in Sterling and Wilson for 3 generations. This partnership will only grow stronger, as the 4th generations of both families have recently joined the business.
Over the past 5 years, Sterling and Wilson has shown exceptional growth; with operations all over the globe, as well as an expansion in its range of services, the company's turnover has shown an extremely positive growth. From a turnover of $254M USD (INR 1,760) crore in 2012, Sterling and Wilson group crossed a turnover of $866M USD (INR 6,000 crore) and is likely to exceed $1,443M USD (INR 10,000 crore) by 2020. From being a predominantly India focused company in 2010, Sterling and Wilson now operates across the Middle East, Africa, Australia and Europe. In the current year, the company is expanding to the USA and South America. From being a company that was mainly focused on doing MEP projects in India, Sterling and Wilson over the past 5 years has set up global operations in manufacture of DG sets, Gas based power plants, Waste to Energy, Turnkey data centres, Transmission and Distribution and Solar EPC. With its recent foray into energy storage, Sterling and Wilson is perfectly poised to play a pivotal role in the global trend of moving away from thermal plants to a future of renewable energy with storage.
###
Media Contact PBES:
Grant Brown
Vice President Marketing
PBES
+1 604 328 2046
gbrown@ssssspbes.com
Media Contact Sterling & Wilson:
Pradeep Singh
Sr. Manager, Corporate Communication
Sterling and Wilson Pvt. Ltd.
+91 9930143519
pradeepsingh@sterlingwilson.com