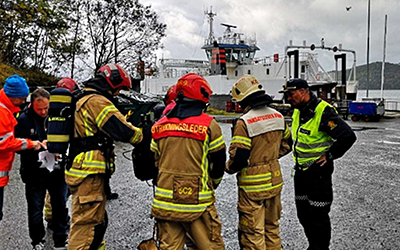 Excerpt from ShipInsight Article. Published by Paul Gunton · 23 December 2019
You can read the full article here
A seawater fire extinguishing system that had been installed as an additional safety precaution on the Norwegian battery-hybrid ferry Ytterøyningen may have "contributed to escalating" events that led to an explosion that struck the vessel on 11 October. It followed an onboard fire the previous evening, according to a preliminary report into the incidents published last week by battery supplier Corvus, but what caused the blast is not yet known.
Although the vessel was a small local ferry operating on a short route in western Norway and the fire had been detected when the vessel was just 200m from its berth at which it docked safely, I believe this incident merits worldwide attention. With battery hybrid power systems becoming more common and an expectation that they will take an important place in the path towards zero-carbon shipping, a fire and explosion involving batteries should alert system designers and operators that this is not a risk-free option.
However, this was the first fire in a battery ferry in Norway and we should be grateful that this wake-up call has been sounded on such a vessel as this, rather than on a large passenger ship far out to sea.
Read the full ShipInsight article here.
For more information on battery safety see our latest post on how battery technology can reassure industry safety concerns.