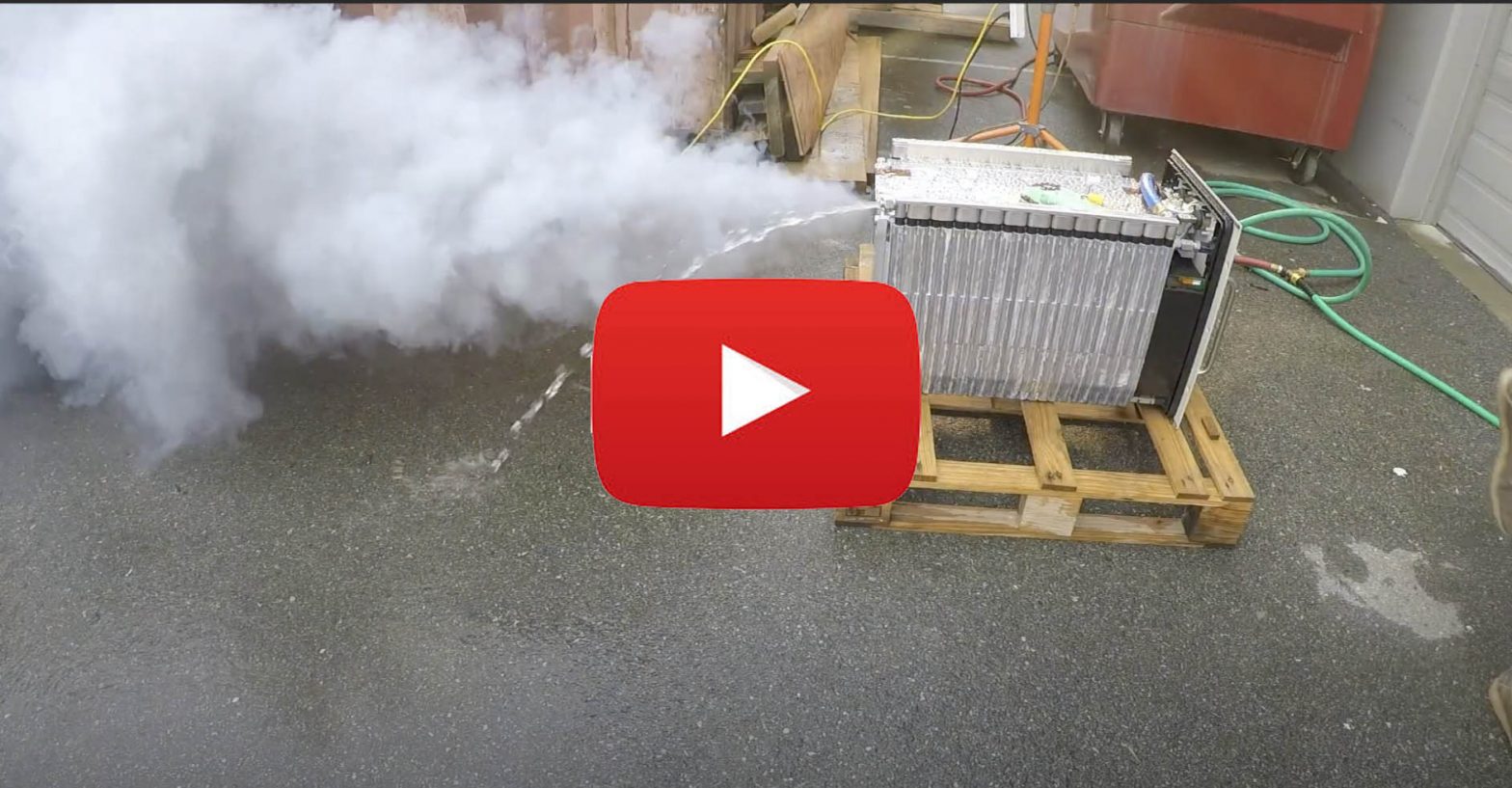 Sterling PBES battery able to withstand worst-case scenario of physical damage.
Linked to video can be found here.
Marine energy storage experts Sterling PBES today announced the completion of its most intense fire and safety testing to date. The battery, known in marine circles as the most robust ever built, has again proven its mettle in extreme testing. The Sterling PBES lithium-ion battery system has been engineered to the highest standards of performance and safety and is designed to easily integrate with any existing electrical and control infrastructure.Most importantly, the battery has been engineered to provide a level of operational performance and quality that marine operators can count on to provide safe operation in the extreme conditions found on commercial vessels.
The recent tests validate the integrated liquid cooling, fire stop, and ventilation systems that come installed on every Sterling PBES battery. An unaltered raw video of one of the tests can be viewed on YouTube here: Nail Penetration Test June 10, 2020.
A ferrous metal spike was driven through all plies of a cell in the battery, simulating catastrophic mechanical damage. Known as the most invasive and difficult test for a lithium battery, the nail penetration test simulates damage that may occur as a result of mishandling or impact from external forces. Typically, in lithium-ion batteries, damage like this would result in a thermal chain reaction called thermal runaway where heat from the damaged cell causes the other cells in the battery to also ignite. The release of the energy contained in the battery can result in temperatures of more than 800degrees and the release of toxic and flammable gasses that are explosive when contained inside the hull of a vessel.
In the nail test, the damage inflicted upon the cell is compounded by the fact that the metal spike is conductive, creating a dead short to the internal circuits of the cell. In repeated tests, the damaged cell almost instantaneously reaches a temperature of over 500degreesCelsius. Due to the integrated and robust cooling system, the heat did not affect adjacent cells. In fact, the adjacent cells did not reach more than 80 degrees C, well within safe parameters. All gasses were safely released through the patented Sterling PBES E-VentTM ventilation system. "The safety systems integrated into every Sterling PBES are the most robust and effective ever delivered in a lithium-ion energy storage system", said Brent Perry, CEO of Sterling PBES. "In destructive testing over the last 5 years, we have been unable to force our liquid cooled batteries into a thermal run away event."