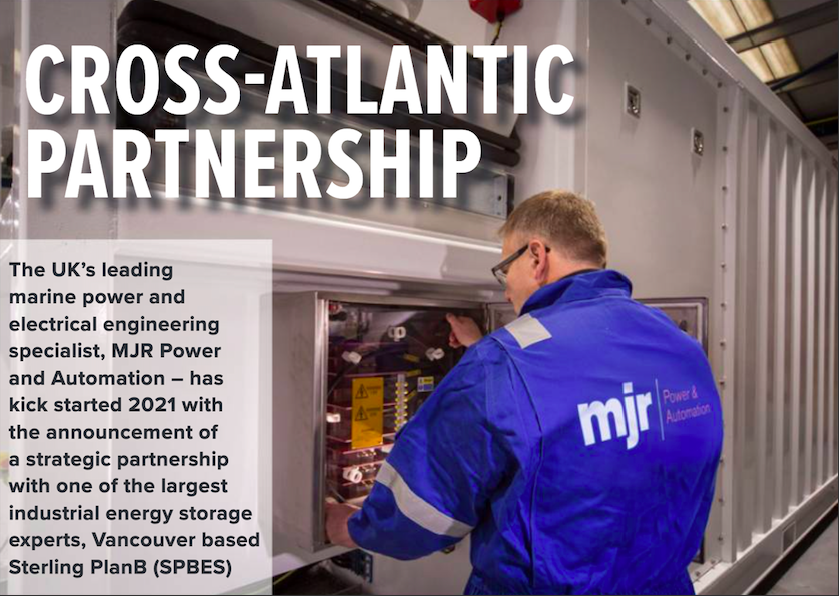 Published in Wind Energy Network magazine issue 57. Link can be found here
Kintech Energy Limited
The partnership will see MJR Power & Automation provide customers across the UK with energy storage solutions and complete marine hybrid and electric propulsion systems. These solutions will utilise SPBES' innovative lithium-ion technology designed and approved for use in both inland and seagoing vessels, ports, harbours and in the offshore sector.
FURTHER BUSINESS GROWTH
Speaking about the partnership, Paul Cairns, Managing Director at MJR commented: "We are delighted to have formed this strategic partnership with Sterling PlanB. There is no doubt they are the world leader in marine energy storage systems and- by adding their product to our portfolio– this enables MJR to further grow our business in the clean technology space.
"Our expertise and knowledge of marine power and propulsion system, combined with Sterling PlanB's world leading design and manufacture of energy storage solutions, we are certain, brings an offering to the marketplace that is very much demanded by the marine companies their drive to reduce fuel costs and develop sustainable long-term solutions that meet global emission reduction targets."
SUPPORTING MARINE COMPANIES
With a great focus on the UK's maritime sector and growing offshore wind industry, the partnership comes on the back of increasing pressure from the International Marine Organisation (IMO) to support marine companies in achieving marine engine regulations and reduce their Tier I, II and III emissions through the introduction of low carbon technologies.
Commenting on the partnership announcement, Paul Hughes, President of Sterling PlanB added: "We are very pleased to have formed this sales and service partnership with MJR Power & Automation. There is no better partner in the UK to distribute, integrate and service Sterling PlanB energy storage solutions.
"Their broad multi-market reach coupled with their in-depth experience, exceptional reputation for customer service and a long list of satisfied clients, makes MJR an ideal partner to develop this most important market."
LEADING SPECIALIST
Operating for over 20 years in the marine, offshore and energy sectors, MJR Power and Automation is a leading specialist in marine power, electrical and automation engineering and provides complete end to end complex projects from design, engineering and construction to installation, commission, and worldwide service from its headquarters in Teesside.
The business is approved UK marine and offshore partners for Siemens, ABB and Danfoss with a number of high profile turkey projects delivered for global leading customers. Its impressive client portfolio includes the likes of, Subsea 7, Technip, Van Oord, Stena Line, CalMac Ferries and A&P to name a few.