NYK Trading Corporation and Sterling PlanB are entering into an exclusive agreement for the sales and distribution of Energy Storage Systems in Japan, bringing new standards of ESS performance and safety to the market.
Energy storage expert, Sterling PlanB has signed an agreement with NYK Trading Corporation, the trading company of the NYK Group, to distribute Sterling PlanB's energy storage systems in Japan. Sterling PlanB has pioneered the development of energy storage systems (ESS) for use in the maritime industry, and consistently raised performance and safety standards for battery technology.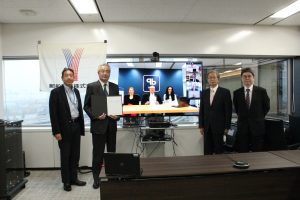 This move reflects the growing awareness that energy storage technology will be an essential component of the evolution of zero-carbon shipping, both in Japan and globally. Whether in combination with zero-carbon fuels, wind assisted propulsion, or other optimisation solutions, ESS can play a role in peak shaving, managing a hotel load, or supplying emergency power, both increasing performance and safety, and reducing fuel consumption.
This agreement will see Sterling PlanB benefit from the scale and resources of NYK Trading Corporation as an important commercial partner. NYK Trading Corporation is already an established supplier of marine fuel and lubricants oil, and mechanical instrumentation business globally, and strong links with Japanese shipowners, shipyards and technology integrators. This marks the move towards a low-carbon future, in line with NYK Trading Corporation's investment in developing its solar energy business and other clean technology avenues.
NYK Trading Corporation aims to bring ESS propulsion to small vessels such as tugboats, short distance ferries and merchant vessels in the domestic Japanese maritime market. By using its business network as an established trading house in Japan, the company will establish a strong sales foundation for ESS and fuel cell suppliers and the battery propulsion market as a whole, as the maritime ESS market in Japan remains relatively immature.
Brent Perry, CEO of Sterling PlanB said: "With many major commercial shipping lines and shipyards based in Japan, we are honored and proud to be joining forces with NYK Trading Corporation to bring our ESS solutions to this market. With their scale and expertise, we look forward to working together to ensure that ESS and battery power is a major part of Japan's clean shipping future."
Keiji Tsuchiya, Representative Director, CEO from NYK Trading said: "Sterling PlanB has demonstrated that they are an innovative company that has made safety its top priority. We recognize the urgent need for shipping to reduce its carbon emissions, and as such, look forward to providing our customers with a world leading ESS solution."
Sterling PlanB's batteries are developed with the highest standards of safety in mind, particularly when it comes to tackling the risk of fire due to thermal runaway. Its systems are some of the first to meet classification society DNV's new 2020 class rules for commercial vessel batteries, which substantially mitigates the risk of the spread of fire by eliminating the propagation of thermal runaway within a battery module. By monitoring individual cells – including patented venting solutions and liquid cooling – Sterling PlanB's batteries have led the way in developing safe systems that supply the power needed for commercial shipping.
Note to Editors
About Sterling PlanB
Sterling PlanB designs and manufactures high power lithium-ion energy storage. Comprised of the most experienced team in the sector, they are focused on providing value and safety for industrial, marine and grid energy storage applications. Visit spbes.com.
About NYK Trading Corporation
As a trading company of the NYK Group, the NYK Trading Corporation has been gaining traction at home and abroad in both the petroleum energy business and the mechatronics (machinery and instrumentation) business. Their slogan is Global Energy & Mechatronics. They are developing a variety of services in both energy and mechatronics, and striving for the realization of "sustainable development".