The Zephyrus Zero Carbon Offshore service operation will streamline the electric transition for Japanese offshore vessels.
April 4, 2023 – (Vancouver/ Unceded Territories of the Musqueam, Squamish, and Tsleil-Waututh Nations) – Zephyrus Marine announces today that it has signed a memorandum of understanding (MOU) with Mirai Ships, a Japan-based leading shipyard located in Miyagi prefecture, to build the Zephyrus Zero Carbon Offshore wind service vessel. Ad Hoc Marine Designs Ltd. (Ad Hoc) will be providing the design for the zero-emission Crew Transfer Vessel ("CTV") which will incorporate Shift's leading-edge PwrSwäp technology This class NK-approved energy storage system will allow crew transfer vessels to swap their modular battery systems with ease while providing a zero-emission service to the Japanese offshore wind sector.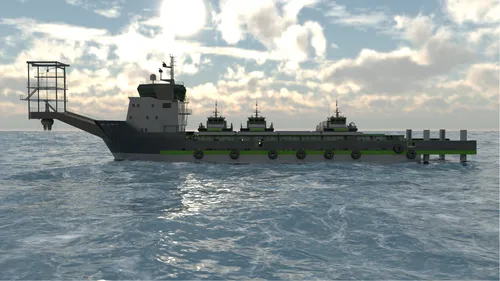 The design of the Zephyrus Zero Carbon Offshore wind service operation will be tailored to specifically service Japanese wind and offshore vessels. The fully electric Mothership will operate as the hotel and charging station with fully electric daughter vessels that will either be stowed on deck or returned to shore for near-shore operations. These daughter vessels will be lifted off the Mothership and launched into the field. When the charge is low, these CTVs will return to the Mothership to dock at the stern, allowing for the spent batteries ("e-pods") to be lifted and replaced with fully charged ones within minutes.
Rob Stewart, Director at Zephyrus said, "We need to make it easy for shipowners and the offshore wind sector to go zero carbon. By partnering with Mirai Ships in building our unique solution, we can move the needle towards a net-zero shipping industry and we can do so while improving the operational cost and reducing the risk profiles within the offshore Japanese wind sector."
Takeyoshi Kidoura, CEO of Mirai Ships, mentioned: "It is a great honor to become a part of this team of people who are trying to make the planet a better place to live. It is a challenge and requires dedication, passion, and, most of all, teamwork. As JFK once said, 'Our problems are man-made; therefore, they can be solved by man. Man's reason and spirit have often solved the seemingly unsolvable. I believe they can do it again.' I believe he was correct, and we can do this in Japan as well."
Paul Hughes, President and founder of Shift, said: "When it comes to decarbonization, it needs to be a collaborative effort. We are thrilled to partner with Zephyrus and Mirai Ships to power these zero-emission wind service vessels. Utilizing our PwrSwäp technology, we give shipowners the power and freedom to utilize clean, reliable energy without having to purchase the energy storage system. Our energy storage systems provide the energy needed for the trip saving space, weight and costs. This is an important step towards lowering shipping emissions in Japan and beyond."
The Zephyrus Zero Carbon Offshore wind service operation will utilize Shift's PwrSwäp technology – a pay-as-you-go energy subscription service that delivers instant renewable, clean energy to vessels without risk. As a result, vessels can utilize only the energy they need without committing to a fixed energy storage system. The technology is rooted in a network of swappable battery e-Pods and containers which are connected through cloud-based service and management centres. Not only does PwrSwäp reduce emissions and costs, it saves time. Unlike traditional refueling which can take hours, it takes between 3-15 minutes to swap modular batteries. This addition will facilitate the transition of Japanese wind and offshore vessels to hybrid or fully electric.
John Kecsmar, Naval Architect and owner of Ad Hoc, added: "We are excited to work with the team at Zephyrus and Mirai Ships to build this unique solution for the Japanese market. This groundbreaking technology is a game changer, allowing vessels to quickly adopt electric energy while dealing with the space and weight constraints that CTVs and other smaller vessels experience when seeking a solution to reduce carbon emissions and improve operating costs. Also, teaming up with our partners at AMC is exciting, having previously shared historical roots in the same company many years ago. AMC is a trusted known builder of high-quality aluminum vessels, including ⅓ of the world's CTVs over the last 17 years. Collaborating with Mirai Shipbuilding to bring world-class aluminum production expertise into Japan, a country known for its attention to detail and quality, by linking with Mirai Shipbuilding, serves as the perfect platform to ensure the locally built vessels for the Japanese market are built to the highest quality standards."
This project and partnership between Zephyrus Marin, Shift, Mirai Ships, and Ad Hoc, marks an important step towards the decarbonization of the shipping industry in Japan and beyond. Zephyrus is rapidly accelerating the electrification solutions for offshore wind. With Japanese waters known for the rough seas all year around, it was a natural fit to use Ad Hoc's SWATH CTVs, which are tailor designed to withstand such harsh annual conditions.
***
Zephyrus Marine,
Zephyrus is a collaboration between` Vessel Manufacturers, Naval architects and both battery manufactures and infrastructure electrical charging specialists. The group has combined the most experience operators in Offshore wind. Zephyrus is able to offer a optimized package in the provision of all electric zero carbon vessels operations with the option of both on and offshore charging. Zephyrus offers training and knowledge transfer to offshore wind farm owners and operators.
Mirai Ships
Mirai Ships is a Japan-based shipyard specializing in the construction, design, repair, and sale of a wide variety of vessels. The company has over 100 years of experience within the maritime industry. Mirai Ships was founded in 1910 and has built a trusted reputation for its high quality construction and meticulous attention to detail.
About Shift Clean Energy:
Shift Clean Energy provides energy storage solutions to decarbonize the marine transport industry and other hard-to-abate sectors. Shift enables customers to meet their climate action and ESG goals with clean energy solutions based on leading-edge energy storage systems. Understood to be the safest and most reliable energy storage solutions on the market today, and the first commercial marine solutions company to offer pay-as-you-go PwrSwäp subscription energy systems. Customers save money from day one through electrification, integrating ESS and renewable energy for both commercial and maritime applications. Shift now has offices in the US, UK, and the Netherlands, with a new office under construction in Singapore. Join us on our mission to zero emissions.
Ad Hoc Marine Designs Ltd:
Ad Hoc is a UK-based design and consultancy company with over 60 years of experience in shipyard production and design. It offers a wide range of technical services, including Naval Architecture, Marine Design, and Technical Support Services. Ad Hoc's staff are experts in their field, notably with more than 30 years of multihull and novel hull form designs such as: high speed passenger ferries and CTVs etc. and extensive research into Aluminum fabrication and fatigue having authored many international technical papers on hydrodynamics and structural design within the marine sector. John Kecsmar is on Lloyd's Register's Technical Committee and sits on the chair of many global institutions.
Press contact:
Yulu PR
Shift@yulupr.com