Shift's battery technology reducing bunker emissions by 10 per cent a year, minimising pollution for nearby port of Singapore.
VANCOUVER; 25 April 2023: Shift Clean Energy announced today the delivery of what will be Singapore's first hybrid bunker tanker, Marine Charge. The 7990-ton vessel, designed by SeaTech Solutions and built by Zhejiang Shenzhou Sunshine Heavy Industry is fitted with 480Kwh of Shift's energy storage system(ESS).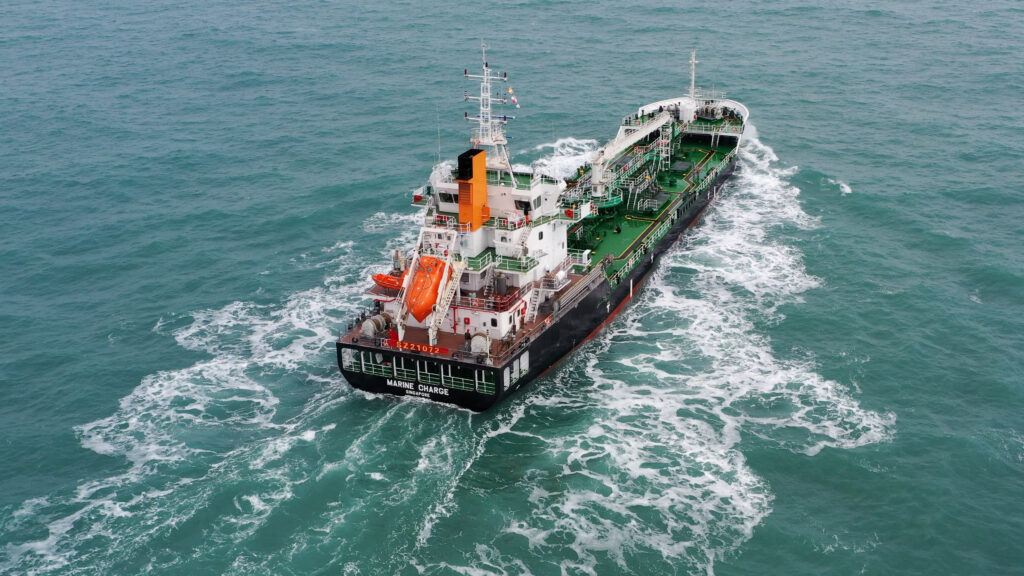 Shift's ESS will be primarily used for peak shaving (storing energy during low power consumption for use during peak usage periods, allowing main generators to operate with a more stable load). This solution helps to optimise energy use, significantly reduce fuel and maintenance costs, improve responsiveness and reliability of power management and in turn enhances safety of operations. This will result in improved fuel efficiency and reduce greenhouse gas (GHG) emissions by approximately 10 per cent a year, minimising pollution near populated areas such as the port of Singapore.
Brent Perry, CEO of Shift Clean Energy said: "This vessel represents a true demonstration of the change that is becoming normal in the marine industry- a fuel carrier focussed on improving efficiency, cost of operations and simultaneously demonstrating the commitment to good global citizenship. Along with the total design of SeaTech, SHIFT was able to deliver the best of both worlds- a best case vessel that transports still much needed oil- efficiently."
V-Bunkers is a leading supplier of barge logistics services in the port of Singapore. The move to adopt Shift's clean energy solution will help decarbonise the V-Bunkers' fleet operations, building on their commitment to achieving high standards of cleaner, more sustainable barge operatorship.
Mike Muller, Head of Vitol Asia said: "We are delighted to contribute to the reduction of emissions in the port of Singapore through the deployment of its first electric-hybrid bunker tanker, and the second one expected in late May. We support Singapore's aspirations to be a leader in maritime decarbonisation and look forward to using these new craft to more sustainably and efficiently deliver bunkers to customers here in the world's biggest bunkering port."
Prabjot Chopra, Vice President of Technology of SeaTech said: "SeaTech Solutions is delighted to have conceived the design of Singapore's first hybrid bunker tanker for V-Bunkers built at Zhejiang Shenzhou Sunshine Heavy Industry. Shift Clean Energy's solution was selected to create more efficient and more environmentally friendly vessel. M.T. Marine Charge will set a new standard for sustainable bunkering operations. We are excited to be enabling this positive impact for the decarbonisation of the marine industry." Shift currently supplies battery-based ESS technology to the marine industry, as well as its PwrSwäp pay-as-you-go power service to on land customers such as ports, terminals, offshore wind farms and beyond. The use of battery technology in marine energy is quickly expanding as the shipping industry continues to transition to greener energy sources in the effort to reduce its carbon footprint. Shift is proud to help companies realize their goals towards net-zero operation
---
About Shift Clean Energy:
Shift Clean Energy provides energy storage solutions to decarbonize the marine transport industry and other hard-to-abate sectors. Shift enables customers to meet their climate action and ESG goals with clean energy solutions based on leading-edge energy storage systems. Understood to be the safest and most reliable energy storage solutions on the market today, and the first commercial marine solutions company to offer pay-as-you-go PwrSwäp subscription energy systems. Customers save money from day one through electrification, integrating ESS and renewable energy for both commercial and maritime applications. Shift now has offices in the US, UK, and the Netherlands, with a new office under construction in Singapore. Join us on our mission to zero emissions.
About V-Bunkers 
V-Bunkers is an experienced bunker craft owner, manager and operator. Fully owned by Vitol and based in the world's largest bunkering port of Singapore, V-Bunkers offers a reliable bunker delivery service to shipowners across Asia and beyond. In April 2021, V-Bunkers was named top Bunker Craft Operator at the Singapore International Maritime Awards and in October 2021 received the Green Ship Award from Maritime and Port Authority of Singapore (MPA).
About SeaTech Solutions
Singapore-based SeaTech has built a strong reputation in vessel design and engineering excellence since its establishment in 2000. Its compendium of over 380 unique designs showcases extensive expertise, innovation and technology, propelling the company as a centre for marine and offshore excellence, offering a complete suite of competencies in-house, from design to engineering and consulting. To date, over 640 vessels operating worldwide bear the SeaTech hallmark of energy efficiency, safety and reliability.