Industry leaders collaborate to drive maritime decarbonization forward.
VANCOUVER; 31 May 2023: Shift Clean Energy (Shift) has announced an exciting new partnership with NYK Trading and Keihin Dock to develop a fully electric in-house demonstration workboat. This 9-meter boat will showcase Shift's leading-edge energy storage system (ESS) technology, utilizing 123kWh to power the fully zero-emission boat.
The in-house workboat will serve as a perfect example of a boat that can operate electrically, which is a crucial step towards maritime decarbonization goals. Keihin Dock will use the electric demonstration boat to transport customers to new vessels being built, assist tugboats as they dock, and supply small equipment to a tugboat under operation. The ESS will significantly reduce fuel and maintenance costs while also improving the responsiveness, reliability, and safety of operations.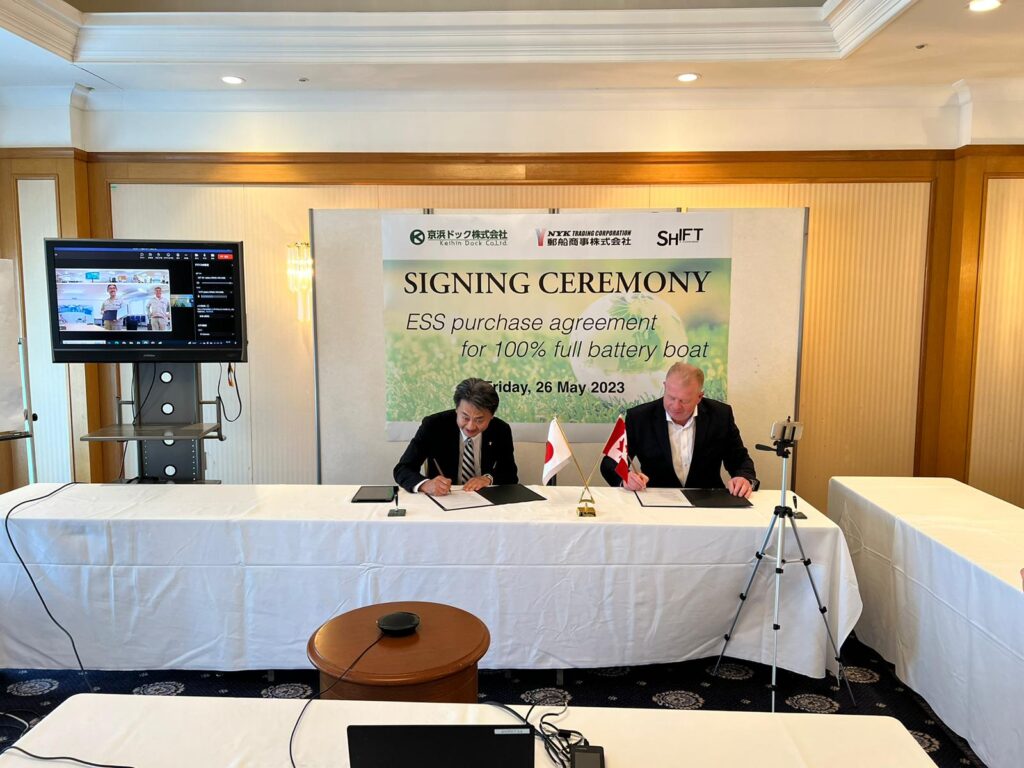 Paul Hughes, Shift's President, said, "This project is a great example of collaboration between industry leaders to drive sustainable innovation forward. We are thrilled to be demonstrating the power of electrification, and we thank our partners NYK Trading and Keihin Dock for their support in this exciting venture."
Shinji Umehara, Director, Senior Managing Executive Officer, said: "The Shift battery system for the Keihin Dock EV boat is our company's first domestic project, and we consider it a highly important project for future domestic sales promotion as well. We are committed to working closely with Keihin Dock and Shift to exert our utmost efforts for the success of this project. We also cooperate with NYK LINE, which provided technical support for the project, and conduct research on battery operation, and energy efficiency in the future."
Overall, this project represents a significant step towards the wider adoption of electric propulsion systems in the maritime industry and paves the way for a greener and more sustainable future.
-ENDS-
Notes for editors:
About Shift Clean Energy:
Shift Clean Energy provides energy storage solutions to decarbonize the marine transport industry and other hard-to-abate sectors. Shift enables customers to meet their climate action and ESG goals with clean energy solutions based on leading-edge energy storage systems. Understood to be the safest and most reliable energy storage solutions on the market today, and the first commercial marine solutions company to offer pay-as-you-go PwrSwäp subscription energy systems. Customers save money from day one through electrification, integrating ESS and renewable energy for both commercial and maritime applications. Shift now has offices in the US, UK, and the Netherlands, with a new office under construction in Singapore. Join us on our mission to zero emissions.
About NYK Trading Corporation
As a trading company of the NYK Group, the NYK Trading Corporation has been gaining traction at home and abroad in both the petroleum energy business and the mechatronics (machinery and instrumentation) business. Their slogan is Global Energy & Mechatronics. They are developing a variety of services in both energy and mechatronics, and striving for the realization of "sustainable development".
About Keihin Dock:
Keihin Dock is a leading Japanese company that offers comprehensive solutions and services for the maritime. Their areas of expertise include the design, construction, and repair of tugboats mainly. Boasting more than 50 years of experience, Keihin Dock has earned the trust of numerous domestic and international clients.