S&SYS and Shift Clean Energy Join Forces to Bring Clean Energy to South Korean Waters
VANCOUVER; 6 June 2023: Shift Clean Energy (Shift) today announced a new channel partner agreement with S&SYS to expand the distribution of Shift's cutting-edge energy storage systems(ESS), an impactful step towards decarbonizing the marine industry in South Korea. The partnership aims to address the growing demand for sustainable energy solutions and accelerate the transition to cleaner and more efficient marine energy systems.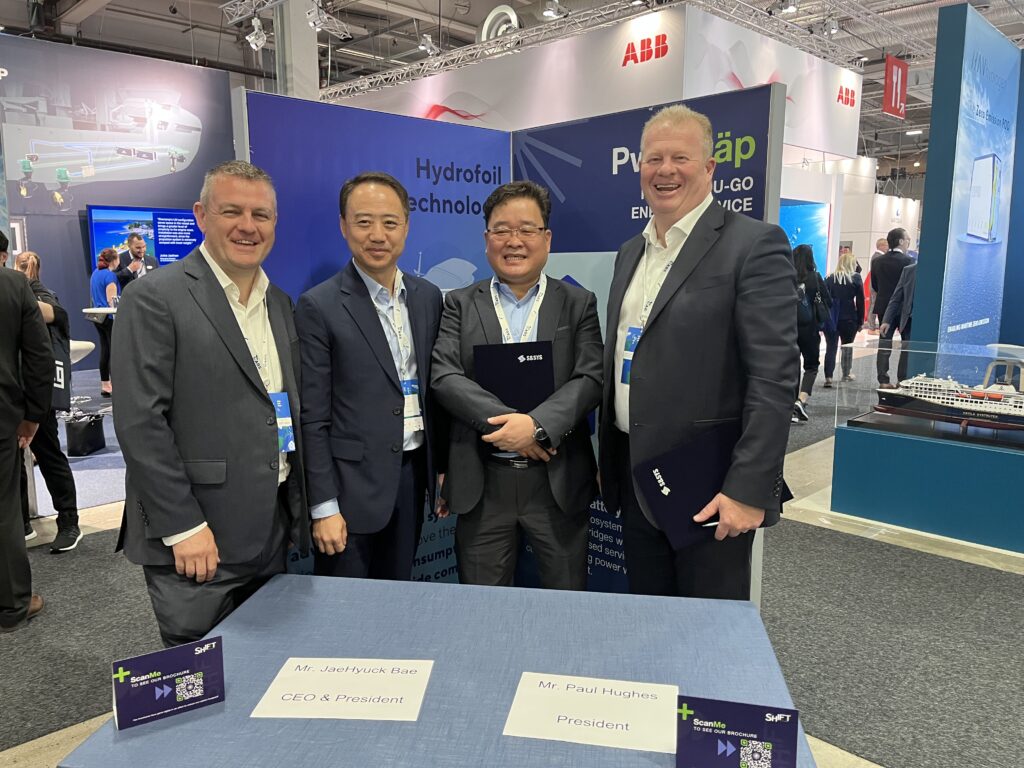 Paul Hughes, President of Shift said, "Partnering with S&SYS is a key milestone for our expansion in South Korea. Our energy storage systems provide innovative solutions to help connect commercial and industrial customers to marine electrification, and we are thrilled to work with S&SYS to bring our technology and expertise to more customers into South Korea."
JaeHyuck Bae, President of S&SYS said, "Shift and S&SYS will pave the way for sustainable energy solutions in South Korea's marine industry. The demand for reduced carbon emissions and a greener future is growing, and this partnership is a significant step towards achieving that goal. Shift's lithium-ion battery-based energy storage systems, provide a safe and highly efficient alternative to traditional fossil fuels, along with scalability. By collaborating, both companies are empowering the marine industry to move forward towards a net-zero future."
In this transition to net-zero, Shift plays a key role with their safe ESS, enabling the marine industry to embrace hybrid or fully electric propulsion systems. Thanks to Shift's advanced cooling system, the transition to electrification is made both safe and efficient for customers. By harnessing the power of battery systems, Shift is leading the way towards a greener and more sustainable future for the marine industry.
-ENDS-
About Shift Clean Energy:
Shift Clean Energy provides energy storage solutions to decarbonize the marine transport industry and other hard-to-abate sectors. Shift enables customers to meet their climate action and ESG goals with clean energy solutions based on leading-edge energy storage systems. Understood to be the safest and most reliable energy storage solutions on the market today, and the first commercial marine solutions company to offer pay-as-you-go PwrSwäp subscription energy systems. Customers save money from day one through electrification, integrating ESS and renewable energy for both commercial and maritime applications. Join us on our mission to zero emissions.
About S&SYS:
S&SYS is the specialized marine equipment company whose major businesses are in Ship's electric and machinery system such as Automation system, Switchboard, Ballast Water Management System("BWMS") and LNG fuel gas storage and supply system("FGSS") and Low Flash point fuel Supply System("LFSS"), with the collaboration with the SHIFT, based on strong market intelligence and governance in Korea, now S&SYS is heading to the future for Decarbonization with their Eco-friendly products portfolio.