VANCOUVER; 20 June 2023: Shift Clean Energy (Shift) has announced today the completion of the TMS "Canaletto", a diesel-electric, hybrid inland tanker for GEFO Shipping Group (GEFO). Working in partnership with Gebhard Electro and Werkina Werkendam, the ship has been fitted with 157.5 kWh of Shift's advanced energy storage system, significantly reducing emissions and improving performance. Shift's ESS will primarily be used for peak shaving and optimizing the power management's capability to use the variable speed generators feeding the DC grid. During berthing time, the ESS also supplies the hotel load.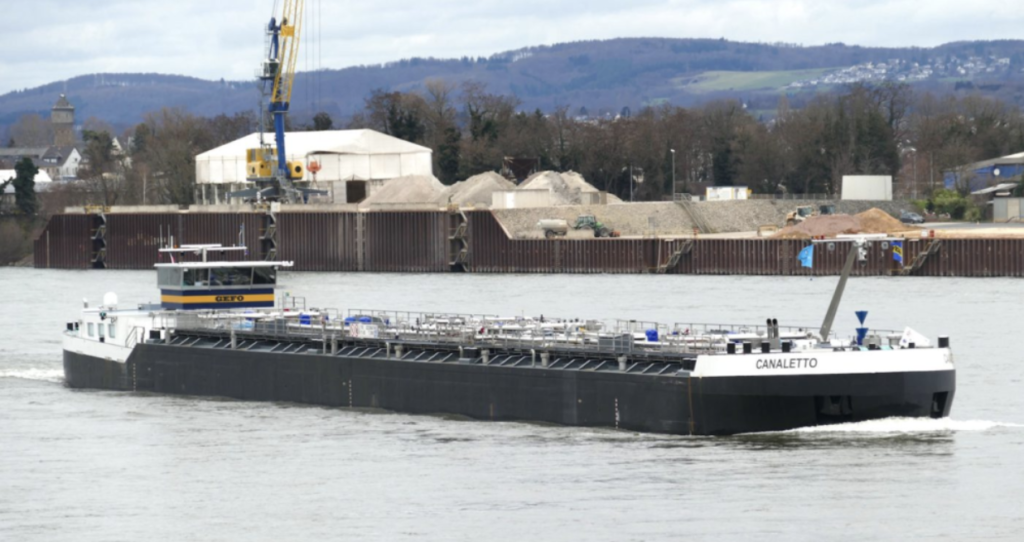 Dirk Sobotka, Technical Director of GEFO, said, "The implementation of batteries to optimize and increase the efficiency of power generation and feed it into the DC grid by means of an intelligent power management system is a significant step in the future implementation of new propulsion concepts, technologies and fuels on the way to decarbonizing inland navigation, one of the most important modes of transport for the logistical supply of large industries."
Canaletto is optimized for extreme low-water situations, transporting special chemicals across some of Europe's largest inland waterways. The ship will be GEFO's first vessel to adopt hybrid electric operations. The project aims to be the anchor point for all future decarbonization efforts across the company's fleet and operations.
Paul Hughes, President of Shift Clean Energy, said, "We are very proud to have been chosen by GEFO for this important project. Hybridizing the Canaletto is a significant first step towards the decarbonization of the inland waterways of Europe and a more sustainable future".
Marty Vos, Head of Engineering and Service at Werkina, said, "New power technologies enter the market in a rapid pace. For ship owners, operators and also classification companies to get comfortable with these new technologies, the merging of multiple energy sources to enable a solid and secure power supply for marine transport is a must. Investments in decarbonization efforts now and in the future with the help of a flexible power management system supports and rewards these efforts to a great extent. The use of batteries significantly improves the flexibility in these installations."
By transitioning away from fossil fuels, the marine industry can significantly reduce its greenhouse gas emissions while increasing efficiency, reducing operating costs, and providing a quieter, smoother ride for crew. Gerard Kraaij, Managing Director of Gebhard Electro said: 'We are proud to contribute to this hybrid tanker of GEFO with the delivery of the Shift ESS to our client Werkina. With our goal the support making the maritime industry more sustainable."
Shift Clean Energy provides energy storage solutions to decarbonize the marine transport industry and other hard-to-abate sectors. Their advanced technology enables customers to meet climate action and ESG goals with clean energy solutions based on leading-edge energy storage systems.
-ENDS-
Notes for editors:
About Shift Clean Energy:
Shift Clean Energy provides energy storage solutions to decarbonize the marine transport industry and other hard-to-abate sectors. Shift enables customers to meet their climate action and ESG goals with clean energy solutions based on leading-edge energy storage systems. Understood to be the safest and most reliable energy storage solutions on the market today, and the first commercial marine solutions company to offer pay-as-you-go PwrSwäp subscription energy systems. Customers save money from day one through electrification, integrating ESS and renewable energy for both commercial and maritime applications. Join us on our mission to zero emissions.
About GEFO Shipping Company:
GEFO was founded in Hamburg in 1961 as a "company for oil transport" and over the past six decades has grown into one of the leading logistics companies in the European chemical and petroleum industry, with sales of EUR 650 million in 2022, 80% of which with products from chemical industry developed. In the future, with a modernized fleet, an increase in volume sales from 18 to 20 million tons per year is expected.
About Gebhard Electro:
75 years ago, Gebhard Electro was established and started as an installation company. Now, Gebhard Electro has developed itself into an electrical system integrator in the maritime and industrial market. We have our own engineer department, own production, own installation team and our own service team. We offer complete electrical solutions and subsystems. With our broad knowledge and experience, we are able to give advice and have an obsessive focus on customer satisfaction.
About Werkina Werkendam:
Werkina Werkendam was founded by (ex)skipper Dirk Versluis in 1977 as business concern in thrusters, car cranes and ship-supplies. In 1996 one of the first Digital Operating System (DBS) with touchscreen interface was introduced. This system quickly adopted as the new standard for ship operating systems. By continued evolutions and investments in new technologies, Werkina has grown to become one of the most experienced and successful maritime installation companies in the region.