VANCOUVER; 20 November 2023: Yinson GreenTech ("YGT") has increased its stake in leading marine industry energy storage solution ("ESS") provider Shift Clean Solutions ("Shift") through the acquisition of all outstanding shares from TTB Holding, held by Shift's founders, Brent Perry and Paul Hughes. Following the acquisition, YGT will become the single largest shareholder of Shift with the remaining shares being held by Shapoorji Pallonji and Delsys FZCO.
This strategic acquisition will drive further innovation and commercialisation of Shift's battery storage technology and accelerate Shift's ongoing expansion into new markets and geographies, solidifying YGT's commitment to driving decarbonisation efforts across the industry.
YGT first collaborated with Shift in early 2021 on the electric passenger craft Hydroglyder, followed by the electric cargo harbour craft Hydromover later that year. In October 2021, YGT made an initial investment in Shift, and since then both parties have been collaboratively working to accelerate the large-scale rollout of Shift solutions in selected regions. YGT's continued investment in Shift is in line with its strategic plans to further strengthen its capabilities in energy storage solutions, towards creating a holistic ecosystem of green transportation across land and sea.
YGT Chief Executive Officer Mr Eirik Barclay said, "Shift will continue to be a pioneer and leader in the marine battery space, demonstrating leading technology with outstanding safety features. As battery solutions are core to marine electrification, YGT is taking active steps to increase our capabilities in this area. We thank Brent and Paul for their significant contribution to this sector and look forward to continuing their groundbreaking work even as they move on to new ventures."
Shift Chief Executive Officer Gary Doyle said, "We, at Shift, are indeed excited, as the increased support from YGT arising from this acquisition positions us more strongly than ever to deliver on current and future projects. Sincere appreciation to Shift's founders for their leading-edge work in the marine electrification space, and we wish them every success as they move on from Shift."
"We are incredibly proud of the team within Shift that has assisted Brent and I in building the business over the last 8 years. Shift is well positioned to be a big winner within the marine electrification sector and YGT's new investment comes at an important inflection point for Shift and the marine industry as the pace of adoption of energy storage reaches new heights," said Paul Hughes, Co-founder of Shift.
"As one of the initial founders of the marine energy storage industry back in 2009, I am very proud to see the skills and resources that YGT has at its disposal being focused on the growth of Shift. The path ahead for both Shift and TTB is an exciting one with TTB now moving to the next phase of its business which is focused on developing and owning energy storage projects globally," said Brent Perry, Co-founder of Shift.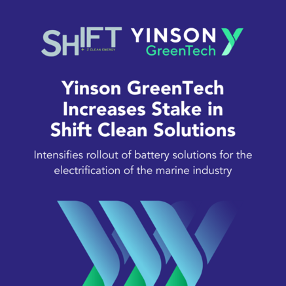 About Shift Clean Energy:
Shift Clean Solutions provides energy storage solutions to decarbonize the marine transport industry and other hard-to-abate sectors. Shift enables customers to meet their climate action and ESG goals with clean energy solutions based on leading-edge energy storage systems. Understood to be the safest and most reliable energy storage solutions on the market today, and the first commercial marine solutions company to offer PwrSwäp, swappable energy storage systems. Customers save money from day one through electrification, integrating ESS and renewable energy for both commercial and maritime applications. Join us on our mission to zero emissions.
About Yinson GreenTech
"Harnessing technology for a net zero future"
Yinson GreenTech ("YGT") is the green technologies business unit of Yinson Holdings Berhad ("Yinson", or "the Group"), a global energy infrastructure and technology company headquartered in Malaysia. The Group has businesses in offshore production, renewable energy, green technologies and offshore marine, and has presences in 18 countries.
YGT was established in 2020 as a green technologies solution provider delivering a clean, integrated and technology-enhanced ecosystem across the marine, mobility and infrastructure segments.
The business unit invests in novel green businesses, R&D and strategic partnerships to develop integrated smart green assets and infrastructure. Ultimately, YGT aims to create a proprietary digital marketplace that provides affordable and accessible tech-based low carbon products and services to help businesses and communities achieve their own net zero ambitions.
YGT's strategic investments currently include an advanced hydrofoil system for electric vessels, e-bike and swappable batteries, autonomous and robotic technology, autonomous systems for electric vehicles, marine energy storage solutions and electric vehicle charging solutions.
For more information about YGT, please visit www.ygt.yinson.com