Sterling PlanB Announces Sponsorship of SHIP ZERO Conference
Glasgow, Scotland UK; 14 JULY 2021: The Zero Emission Ship Technology Association (ZESTAs)  announces SHIP ZERO – Charging to True Zero  – an in-person, three-day conference which provides an opportunity for the international shipping sector to chart a course to true zero emissions for trans-oceanic shipping. Taking place from November 1-3, 2021 in Glasgow, Scotland, SHIP ZERO runs parallel to COP26 Glasgow, taking place from November 1-12, 2021.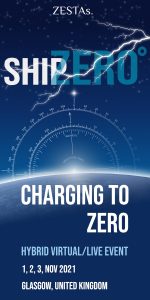 This unprecedented three-day event will bring together global thought leaders and top decision makers to brainstorm disruptive solutions with industry peers. Experts will inform on game-changing zero emissions innovations and state-of-the-art zero emissions technologies. Finance and policy experts will share the latest intelligence on the tools and mechanisms required to achieve "true zero" in this decade.
"The time for half measures on climate action in the shipping sector has past," said Madadh MacLaine, Secretary General, ZESTAs. "That's why we're bringing together industry, government and thought leaders to create joint initiatives that will provoke strong action in the first half of this decade. We have the technology to build, fuel and operate fully zero emissions vessels of every class and size. It's time to do it."
"The shipping industry must begin to make change now," said Brent Perry, chair of ZESTAs and CEO of Sterling PlanB Energy Solution, "I know our sector can change course and make a difference in climate change. But it must happen much faster than has been discussed in international fora. Industry can and should take the lead. That's why my company is proud to be sponsoring SHIP ZERO in Glasgow. And we hope a lot of other companies join us."
Sterling PlanB is a world leader in providing energy solutions in the marine sector. The company announced its lead sponsorship of the SHIP ZERO conference today, as debate swirled around the EU plan for shipping GHG emissions reduction.
SHIP ZERO will include robust technical presentations and speakers' panels. Audience Q&A and brainstorming sessions will follow each session to facilitate collaborative solution building throughout the three-day event.
Highlights of the agenda include:
Zero Emissions Vessels on the Water Today: Ivan Østvik of Norled reviews the Hydra, a hydrogen powered Norwegian ferry that can carry 80 cars and 10 trucks with 400kw of PEM fuels cells and 1.36 MWh of battery power;
True Zero Emissions Vessels in Hard to Abate Sectors – in Design or Build: Dannielle Doggett, CEO of SailCargo Inc. will present on the design for their hydrogen wind cargo vessel;
Sveinung Oftedal, chair of the International Marine Organization (IMO) intersessional working group on greenhouse gases will speak about recant outcomes of Marine Environment Protection Committee (MEPC76), implementation of short-term measures and upcoming IMO regulations.
More information about the conference agenda and speakers is available here: zestas.org/ship-zero.
Media Contact ZESTAs:  Carleen Lyden Walker  c.walker@morganmarketcomm.com, +1203.260.0480
Media Contact for Brent Perry, Sterling PlanB: Carolyn Jack, carolyn@coastcommunications.ca